Submissions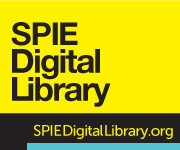 All abstracts and manuscript must be submitted via SPIE's online Submission System.
The Proceedings of this conference are published in the SPIE Digital Library along with over 400,000 papers from other outstanding conferences and SPIE Journals and books from SPIE Press.
Guidelines
1. Prepare and upload your abstract (limited to 250 words) through SPIE's Online Submission System .
2. To have your contribution published in the SPIE conference proceedings, prepare your full manuscript (at least 4 pages) according to the SPIE's Technical Paper Specifications.
Technical Paper Specifications
AOP17 Paper Template
Paper LaTeX Help
3. Submit your SPIE copyright form: ProcCopyrightForm.pdf A SPIE Transfer of Copyright form will need to be signed by at least one author of the manuscript and returned to SPIE. The completed form should be returned to SPIE by one of the four following methods:
Upload your copyright form in your spie.org to-do list.
Via post (address on form)
Scan and e-mail to margaretg@spie.org, or call +1 360 685 5459
Fax to +1 360-647-1445.
Authors can also submit revised versions of their papers to any of the several journals of SPIE

4. Manuscript Submission for the special issue of the Optical and Quantum Electronics Journal (Springer)
In addition to the Proceedings Book, the authors have an excellent opportunity to reach an even wider audience through publishing extended versions of their manuscripts at the Optical and Quantum Electronics special issue on Applications of Optics and Photonics - conference AOP2017, Algarve - Portugal, May 2017. The Impact Factor of this Springer publication is increasing steadily since 2010 and in 2015 was 1.290. Uploading of the extended full paper to OQEJ' special issue should be made from June 2 to September 29, 2017 at: http://www.springer.com/physics/optics+%26+lasers/journal/11082
As a guideline we would normally expect that in an extended version of proceedings conference papers at least 70% of the material submitted to OQEJ would be 'new'.
5.
Full paper submission to OPA (Optica Pura y Aplicada) Manuscript Submission for the Optical and Quantum Electronics - Springer
Authors are also invited to submit revised versions of their works (in Spanish or English) to the journal of the Spanish Optical Society, OPA