Venue Location
The University of Algarve is a young public higher education institution located in the southern part of Portugal, founded in 1979. On its 30th anniversary it registered circa 10.0000 students of which around 1600 were enrolled in postgraduate programs.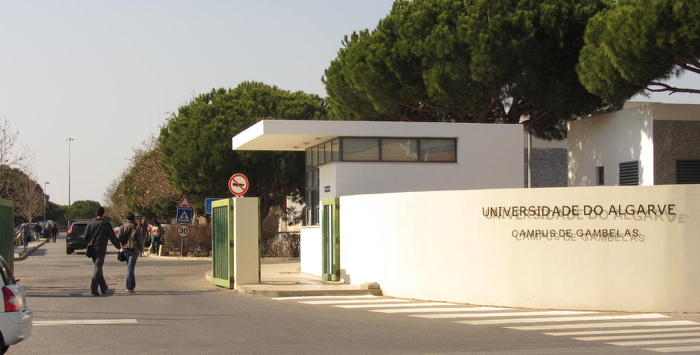 The University's core research and teaching areas are: science and technology, management and economy, earth and marine sciences, social sciences and more recently health.
With circa 1000 permanent teaching and research staff, the University of Algarve offers 61 graduate and 56 postgraduate programs (45 MsC and 11 Phd). International, inter-personal and inter-institutional networks, and projects developed in cooperation with other universities are reflected in its teaching and research activities so as to foster innovation and update of learning contents, project incubation, curriculum development, scientific research and training. International projects are fully integrated into the life of the institution. At present, the University has well-established research centers in several fields such as marine sciences, bio-medicine, electronics, chemistry, arts and communication and social sciences.
The Gambelas Campus of Algarve University (see plan of the Campus), where the AOP2017 will be hosted, is a campus surrounded by a natural environment of pine trees and is situated 6 km from Faro city and 2 km from Faro International Airport.

GPS Coordinates: 37°02'34.9"N 7°58'15.6"W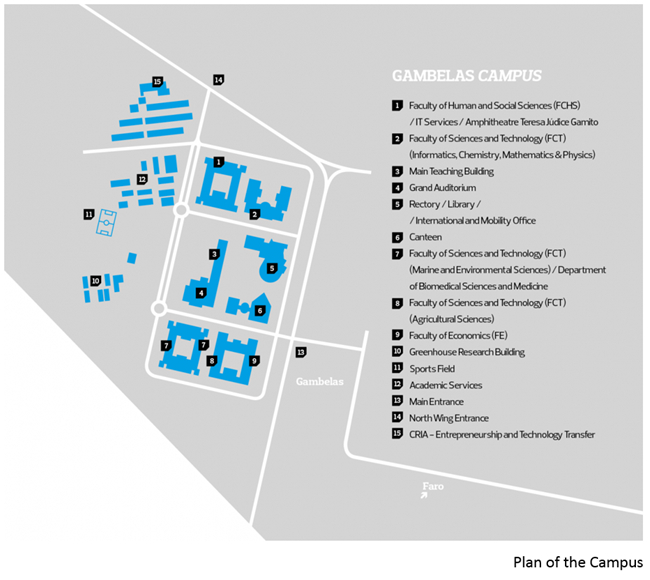 Faro will lend attendees a lovely climate, unique colors, exceptional gastronomy, history and a diversified cultural life. The charming atmosphere of Faro and breathtaking landscape in its surroundings provide the best environment to hold the next International International Conference on Applications in Optics and Photonics.
A bus is available
to transport AOP2017' participants from city center to the University (venue is located at first building to the left at the University main entrance) and back (early morning and afternoon).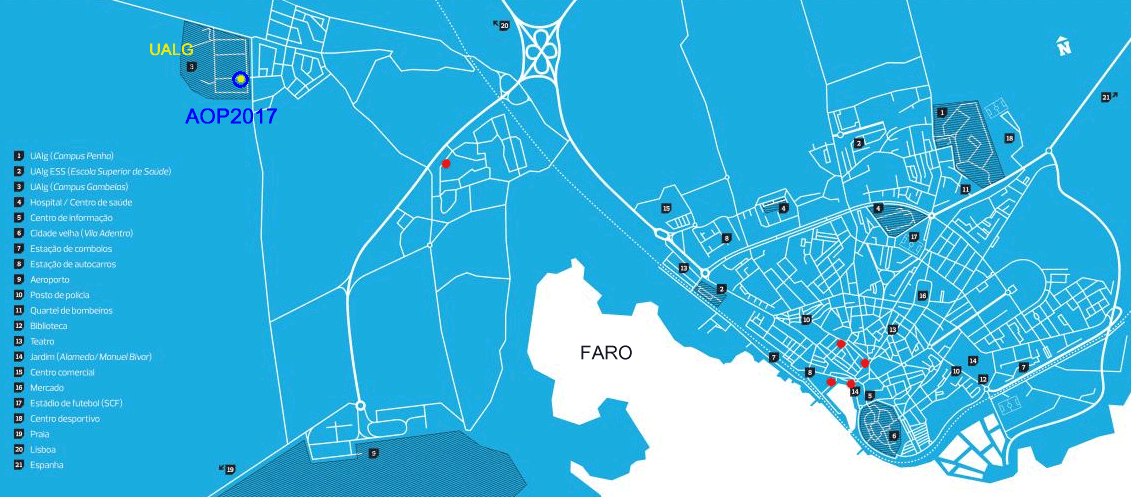 You may also use local buses (www.proximo.pt)
From/to city center: bus lines 18 and 19
Between airport and city center (and back): bus lines 14 and 16
Between airport and the beach (and back): bus lines 17
Single ticket cost: 2.25euros bought inside of the bus or 1.43euros pre-bought (PXM3 ticket)